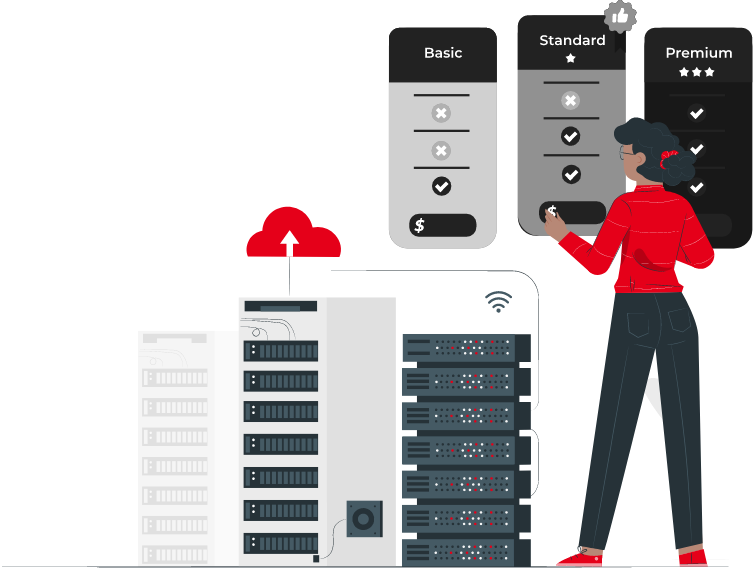 Transparent and Scalable Commercial Terms
Drive your digital transformation agenda with flexible pricing tailored to your requirements. We offer packages that scale up with your business as you grow your site portfolio. Our detailed quotes are based on a thorough evaluation of your organization's needs.
Licensing Model
Choose what works best for you
COST
License Fees (One time) + Maintenance (Annual)
COST
Bundled Annual License Fee
Pricing
Allows unlimited licenses for internal and external users. The license fee is based on:
$/Tower
Based on number and type of sites
$/Module
Based on number of Red Cube modules licensed
$/Market
Based on number of countries and instances
Frequently Asked Questions
How is Red Cube installed?
Red Cube can be hosted on your own local servers (on premise) or anywhere in the cloud. We partner with Amazon Web Services and Microsoft Azure to provide a cloud-hosted application. We can also host the application on your private cloud.
How do my team members access Red Cube?
Red Cube is a web application. This means your users can access the application from anywhere in the world using any of the modern browsers such as Edge, Chrome, or Firefox.
Do you integrate with "product xyz"?
We integrate with various third-party tools and applications including SAP, D365, Oracle, SharePoint, drone applications, network planning tools, and more, with connectors available for standard data objects. Custom APIs are developed on request. For more information on our integrations, please get in touch.
Do you help migrate data?
Yes, we do. This would entail a professional services fee, but we are happy to go over the scope of your project with you. We provide standard data templates for you to populate with your data and we will collaborate with your team members to help them understand the templates.
How is Red Cube customized for our organization's use?
We understand that our best-practice process library and out-of-the-box reports may not always be just right for your use. We undertake detailed gap analysis sessions before implementation begins so that we can ensure all processes, milestones, reports, etc. are configured to match your business needs.
How quickly can I get Red Cube up and running for my organization?
Red Cube's Quick Launch implementation with standard process templates and reports can be deployed quickly within 4-6 weeks, exclusive of data migration and integration. For additional configurations and process optimization, our implementation teams can provide an estimation of timelines based on your specific needs.
Is there a separate license fee based on the number of users who can access your application?
No, our pricing model is purely based on the number of sites loaded into the application. We encourage you to enable all your users - both internal and external - to use the system.