Our Story
We are here with our niche industry expertise to provide you with a comprehensive tower portfolio management solution through a best-in-class product and consulting services.
Tarantula is a Lumine Group company
Building better products and services is Tarantula's ongoing commitment.
About Tarantula
Tarantula is owned by Lumine Group, a division within Volaris Group, a subsidiary of Canada-based Constellation Software Inc. We are a global software company and a proven market leader of an end-to-end telecom site management solution. We empower tower site owners to achieve operational efficiency and monetize their assets, all to increase the value of their tower business.
Our Vision - shaped by customers
Our vision is to empower tower site owners to build profitable and sustainable businesses as they evolve into the future through market and technology changes by providing them the most valued telecom asset management software and site portfolio solution.
Our Promise
We will focus our efforts to work in close partnership with our customers using our purpose-built solutions and services for improved site profitability and operational performance.
Tarantula's Journey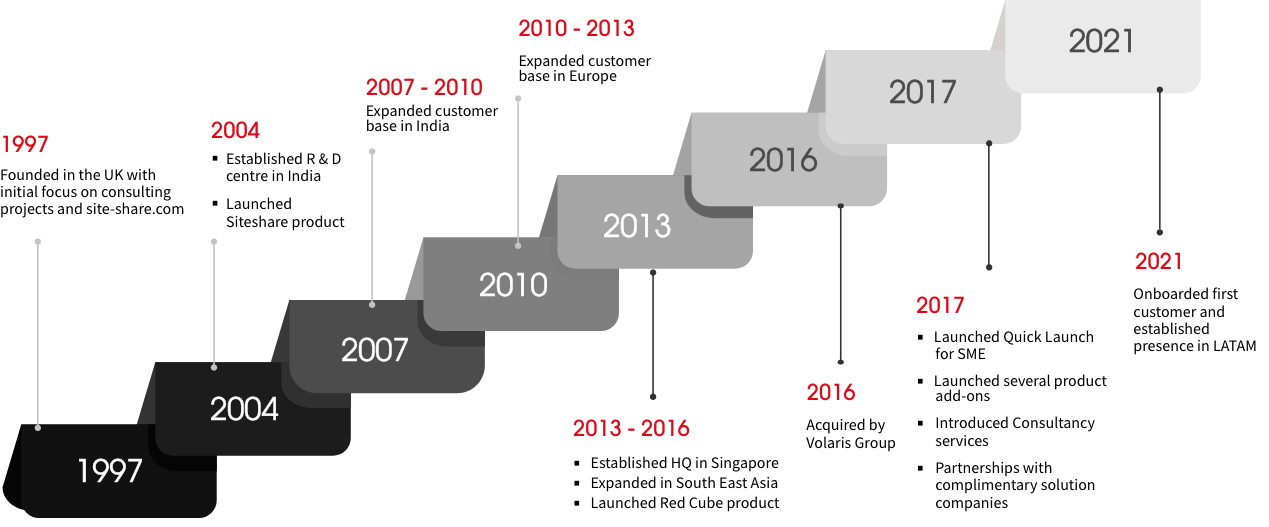 Our Values Define Us
Teamwork
We continuously strive towards improving our team-working skills - within our company as well as in our work with our customers. This way, we work more effectively, learn more about ourselves, what we are good at, what we need to improve, and learn from each other. When working with our customers, we are able to improve our insights of their daily challenges, which we can use to improve our solution and services.
Transparency
We strive for an open and transparent communication environment with easy cooperation, both internally and towards our customers. Transparency builds trust, which is crucial for us as we want to become a trusted and preferred partner to our customers. Transparency also helps us in our innovation of our solutions and services, enabling us to receiving more feedback.
Expertise
We strive towards improving our partnership and advisory skills, towards our customers as well as our colleagues. Our main focus is on improving our solution and services towards our customer's needs and demands. We strive towards becoming a preferred partner towards our customers, and not just a supplier, thus enabling us to build trust for our company, our expertise, and our solution and services.
Leadership
We continuously work on improving our sharing of our extensive industry knowledge, both internally and externally. In addition to being the market leader of our solution and services, we also strive to share our knowledge and expertise towards the market with the vision of becoming the thought leader in our domain.
Our Approach
Quick, Pragmatic and Agile
Quick Launch
Our Quick Launch package saves time and huge upfront costs on software development. Immediate availability of the tool helps both management teams and end users to realize the potential of the tool and to solve their present-day problems in as little as few weeks. Tarantula's smart software architecture and modular framework make rapid configuration and deployment possible, for any type of tower company or operator.
Proof-of-Concept
We understand that making a decision on an enterprise software toolset is not easy. We offer a proof-of-concept system configured to your target business processes so that you can experience the power of our platform. Tarantula's proven deployment methodology ensures that your users get to engage with our product and removes the risk of buying an unknown software service.
Agile Methodology
Agile software methods and cutting-edge technology underpin our software development and delivery. We're strong believers that rapid storyboarding and prototyping are critical in delivery of successful solutions. 'Agile' ensures that Tarantula teams are always building feature sets in line with requirements of the customers, thus enabling customers to grow and increase market share.
Resources
Benefit from our thought leadership that has created value for all stakeholders in the telecom site management space
2021 F-1 has been controversial, to say the least! Did you get a chance to witness the last lap of the final race of the season? Verstappen ...
End-to-end telecom site management software that can integrate a towerco's operational processes with commercial reality can sometimes be ...
The data explosion in recent years has driven the growth of tower companies worldwide, so much so that there is now a web of millions of ...
Singapore
101 Cecil Street
#10-11 Tong Eng Building
Singapore 069533
United Kingdom
Mayfield House
14 Rochford Gardens Slough
SL2 5XJ, UK
India
#204, 2nd Floor
Aditya Trade Center,
Ameerpet, Hyderabad,
Telangana, India 500038