Supercharge your digital transformation with seamlessly integrated mobile apps
Meet Fred, a field technician with years of experience in performing site audits for towercos and MNOs. His latest assignment is with a tower company that needs him to assess and verify the equipment installed on one of their sites.
Equipped with his trusty clipboard and pen, Fred sets off on his journey to access the site and locate the antennas, their positions, power units, air conditioners, and other telecom infrastructure. Hours turn into days as Fred meticulously inspects each piece of equipment, checking for any signs of damage or wear and tear. He notes down all the details on his clipboard, including make and model numbers, serial numbers, and maintenance records.
He then has to upload all the information to the company's database. The process is slow and cumbersome, with mountains of paperwork to go through.
There are days where Fred has multiple sites to inspect and conduct maintenance for, requiring him to travel across different locations, making the process of keeping track of inspections and maintenance activities offline even more time-consuming, complex, and prone to errors.
What if Fred had access to a mobile app that could streamline the entire audit or inspection process and provide real-time data to the decision-makers?
Digital transformation has become a top priority for tower infrastructure owners and network operators as they strive to stay ahead of the competition and capitalize on growth opportunities. One critical aspect of digital transformation is having a single source of information for your tower business that integrates operational processes with commercial reality. As tower infrastructure providers continue to embark on their digital transformation journeys, mobile apps are becoming an increasingly critical component of the end-to-end site management process. One of the most significant benefits of mobile apps is their ability to facilitate real-time data capture, enabling faster, more accurate decision-making.
Is a telecom site management web application enough?
Imagine the challenge of managing a vast estate of geographically dispersed sites, all requiring constant maintenance and repair. Tower companies and telecom operators face this daunting task every day, and to make matters worse, they also have to manage a large number of field operatives who are responsible for conducting surveys, performing maintenance jobs, and carrying out site audits.
The problem doesn't end there - site managers have to assign work orders to these engineers and ensure that they receive the appropriate information to complete the job at hand. And let's not forget the importance of quality assurance - field staff must be able to complete their work orders with the utmost level of accuracy, all while ensuring that they meet the towerco's timelines.
Gone are the days of clipboards and pens, as these tools have become outdated and inefficient in the face of modern technology. And while email may have once been considered a solution to send data to a web-based application, it too has proven to be inadequate in many cases. It has become essential for telecom site management software providers to catch up and create complementary mobile-friendly apps that can be easily accessed and used by anyone, anywhere, at any time.
Site operations and maintenance tasks are complex and time-consuming, but with the help of mobile apps, tower companies and MNOs can streamline their operations and optimize their field workforce management. An ideal field force solution helps system administrators easily configure work orders while operations personnel can assign these orders to their field staff anytime, anywhere.
How can mobile apps accelerate the telecom site management processes?
Field force management has come a long way with the advent of 5G and the reduced costs of mobile devices and tablets. This has not only reduced the costs associated with keeping track of site audits, asset maintenance, and trouble tickets, but has also made it easier for the field staff to capture and share information over the cloud.
However, for a mobile app that supplements a site management web application, to be truly effective, they must be able to communicate with each other in real-time. This requires a two-way flow of data between them, allowing for seamless integration and constant updates.
With a mobile app that is a seamless extension of typical web-based back-office tools, field engineers can remotely access updated information about the site, such as equipment inventory, maintenance schedules, and performance metrics. Mobile apps also enable faster communication between site managers and field engineers, as well as other stakeholders such as suppliers and vendors. By using the app, field staff can access the tasks assigned to them and managers can receive real-time updates on progress in their web applications, reducing delays and improving overall efficiency.
Wondering what this process looks like?
Let's consider the example of a tower company needing to conduct a site inspection of a telecom site, where the responsibility for carrying out the inspection is given to a field engineer from a vendor or operations team member. The tasks assigned are usually composed of customized quality checklists for the towercos. Utilizing standardized checklists can facilitate consistency and clarity in task completion and validation across multiple sites. Whether it's deploying, inspecting, upgrading, or performing audits, checklists can expedite the process while ensuring a thorough execution.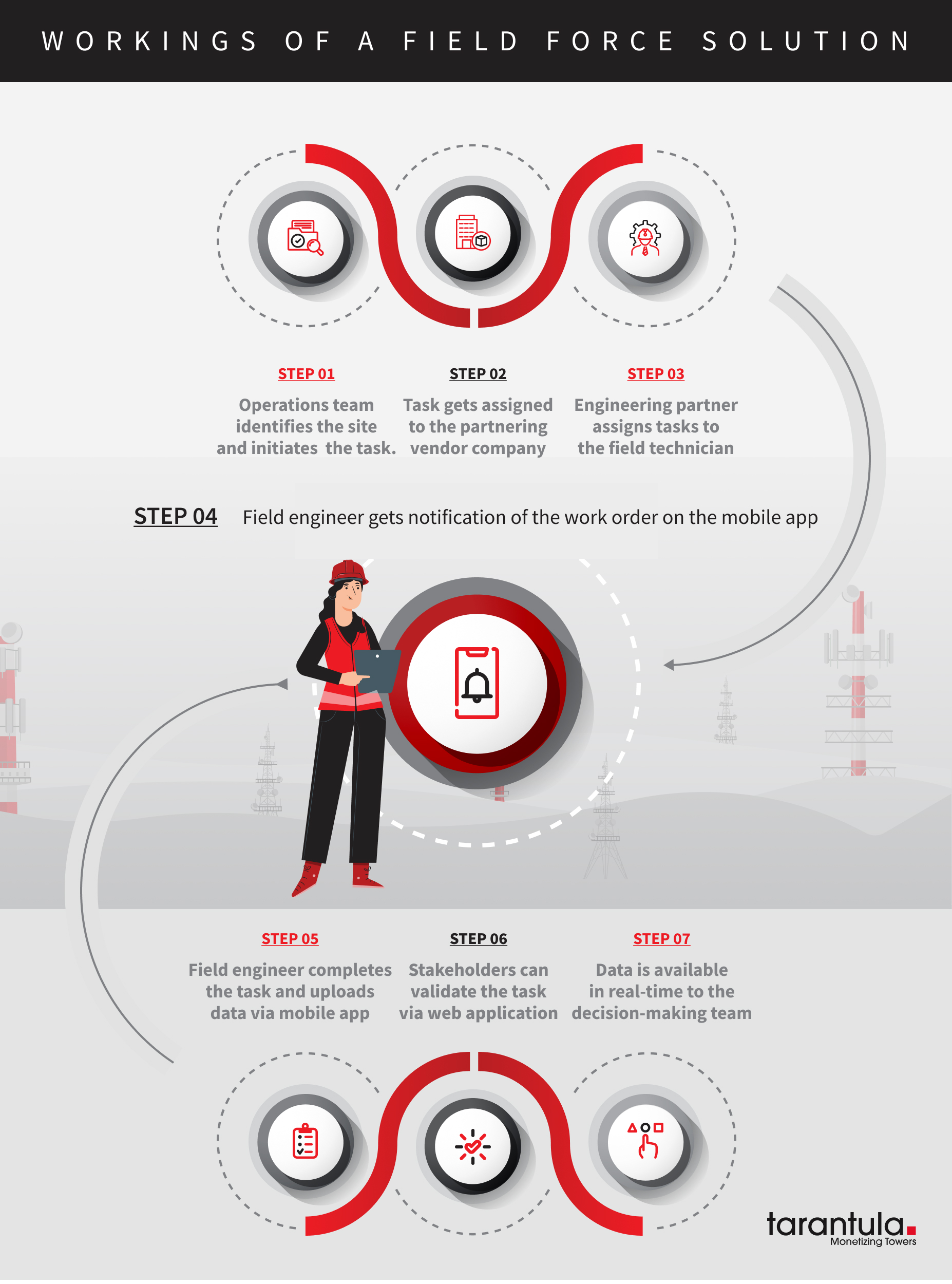 What makes this possible?
This works because the field force app is integrated with the web-based site management solution. Configured workflows initiate a process where the operations team assigns the asset audit to an engineering partner company, who in turn assigns the job to a field engineer through a mobile step - Perform Task.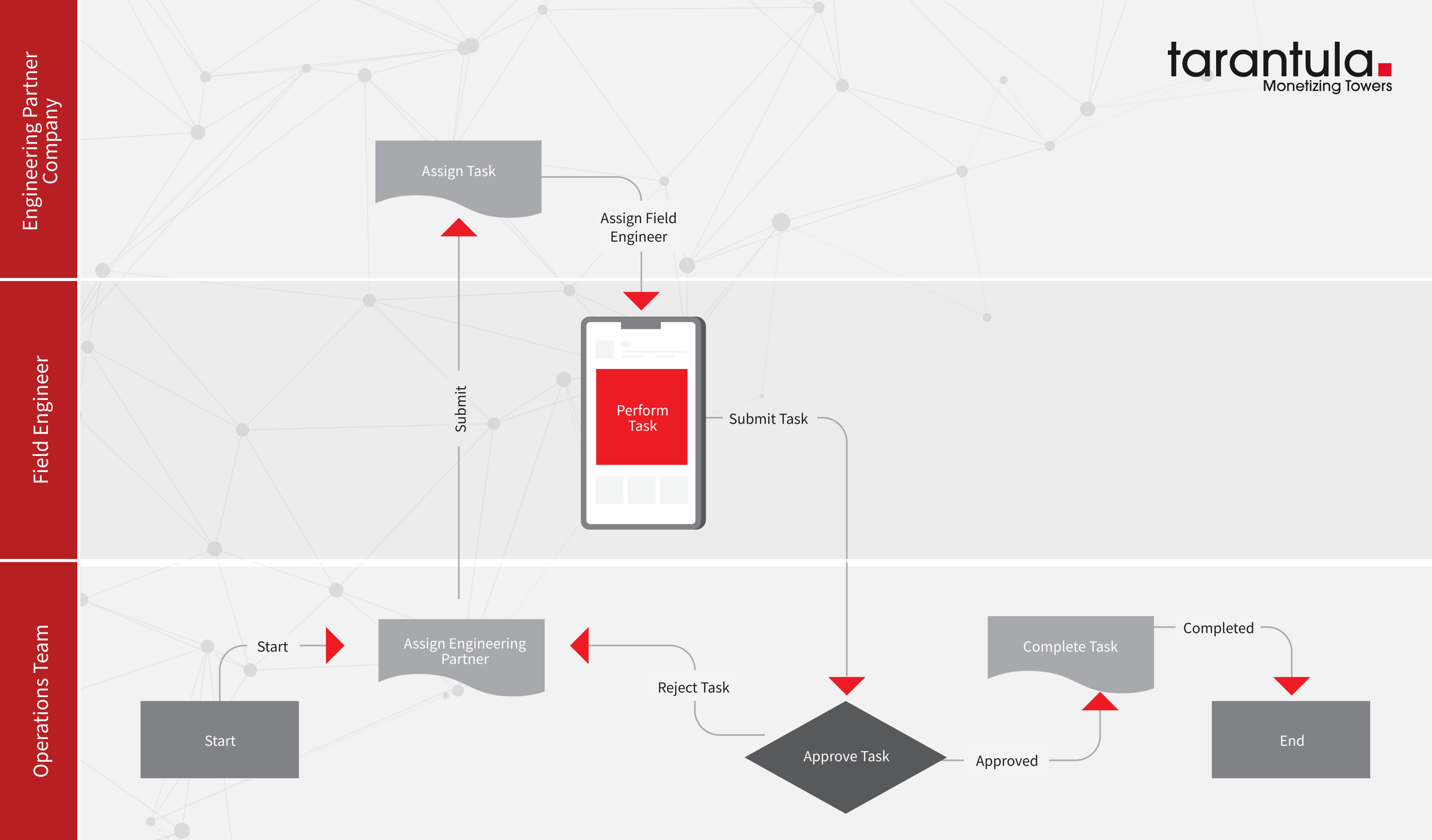 In order to create the work order, the operations team logs in to the web application, selects the site, and creates a project to conduct the task required via the pre-defined workflow. The operations team can then assign the inspection task to a specific engineering partner who then assigns it to a field engineer.
The field force app lets the field engineers receive the work orders, and choose preferred projects and sites to perform their task. It enables them to do quick photo uploads and complete forms and checklists for prompt and efficient inspections and problem resolutions. Accessible on mobile devices, the app provides uninterrupted site and project context to teams in the field.
Features to look for in a Field Force Mobile App
Field force mobile apps are designed to enable organizations to manage their field workforce more efficiently. Here are some key features to look for in a work force mobile app:
Real-time data capture
By submitting information directly through the app, manual double entry and the errors associated with it can be eliminated. This saves time required to manually copy clipboard checklists into desktop tools and spreadsheets back at the office.
Customizable work orders
This feature allows for the creation of work orders that can be configured based on specific needs, and an unlimited number of form fields and customizable checklists can be included to capture all necessary information.
Efficient task assignment
The system ensures that the appropriate field engineer is assigned to the appropriate job, with the ability to reassign jobs as needed. In addition to this, the field staff also has the ability to raise an issue, report a theft or break-in, and create a service order based on their assessment of the site.
Push notifications
Push notifications are sent to smart devices to alert field engineers of available work orders that can be downloaded directly onto their devices. This also allows the field technicians to either accept or reject the request based on their availability or even plan their routes for the day.
On-site audits and asset management
The system allows for on-site audits and asset information to be available dynamically, providing a comprehensive view of assets and their current condition to the field technicians. They can then add comments against the items, record their activities,and even capture the cost of fuel refills and asset replacement. Having real-time access to this data gives the management a bird's eye view into assets and fuel available at a given location, thereby helping with the movement of assets, fuel, power cables etc. across various telecom sites based on their requirements for a given region.
Proof of completed work
Features that enable the use of geo-tagged photos, date and time stamps, scanned barcodes and signatures as proof of completed work, provide accountability and transparency.
Offline Work
The app should enable work to be completed offline and saved until network access is available, allowing field engineers to continue working in remote or low-connectivity areas.
Partial Sync
With limited connectivity, the system should allow for the upload of only necessary data or thumbnails of equipment photos, thus optimizing the use of available network resources.
Full Integration
The field force solution should be fully integrated with back office web applications, streamlining workflows and data management across the organization.
Scheduling
A scheduling feature that allows managers to assign tasks and create schedules for their field force teams, helps to ensure that workloads are distributed evenly and that resources are utilized effectively.
Real-time activity and data tracking
A mobile app should have real-time tracking to provide visibility into the location of field engineers, enabling managers to track progress, reassign tasks, optimize routes and make better decisions.
Location Tracking
For a mobile app, incorporating geolocation tracking is a critical feature to have. This functionality enables field staff to locate the site they have been assigned and for the operations team or the engineering partner company to confirm that work and forms are completed on-site while providing real-time visibility of all active technicians operating in the field.
Gamification and Leaderboard
This feature can motivate field technicians to complete their tasks in a more efficient and timely manner. Integration of gamification techniques like rewards, badges, and competitions, can help incentivize field technicians to complete their work with more enthusiasm, leading to improved results. A leaderboard can also show the progress of each team member, providing a sense of healthy competition and motivating them to improve their performance.
How a field force mobile app can improve your business operations
Organizations with field operations, where managing a mobile workforce can be a daunting task, are always on the lookout for ways to streamline their operations. Fortunately, the advent of field force mobile apps has revolutionized the way businesses handle their field operations. These apps offer a range of benefits that can save time, improve productivity, and ultimately lead to growth. So, let's dive in and see what these apps have to offer!
Improved efficiency, productivity, and profitability
Field force mobile apps can help towercos and MNOs streamline their field operations by providing field operatives with easy access to work orders and real-time data capture. This can help save time, prevent manual process errors, and enable business growth. Towercos can also choose between single and multiple user based assignments to do better allocation of resources.
Better visibility and control
By using a field force mobile app, towercos can have better visibility into their field operations, allowing them to make the most out of their investments and effectively complete preventive maintenance. Instant work order scheduling and real-time data capture can help organizations optimize their resources, whether they are insourced or outsourced. This also provides the towercos an insight into missing assets on the sites, report thefts, check if the assets installed on sites are green energy compliant, and control revenue leakage.
Enhanced customer service
Field force mobile apps can help field staff complete work orders faster and provide superior customer service, leading to higher customer satisfaction and retention. Moreover, having access to a mobile field solution not only helps tower owners optimize their operations and maintenance activities, but it also helps them increase their speed to market through proactive site acquisition surveys to create site land banks.
Accountability and transparency
Field force mobile apps can make engineering partners and vendors accountable for their work orders by enabling the upload of information as proof of completion. The uploaded pictures and videos are geo-tagged to provide towercos with precise location history. This helps the managers ensure that work orders are completed to their satisfaction and that they are only paying for work that has been completed.
Data-driven decision making
Field force mobile apps can capture data that can be used to analyze and improve field operations, enabling organizations to make data-driven decisions in real-time. This results in well-managed large scale projects spanning across multiple geographies and ultimately, increased towerco profitability.
By embracing digital transformation and adopting mobile apps, tower infrastructure providers can improve their site management processes and enhance the overall employee and customer experience. The future of field service management is mobile - and the companies that embrace this transformation will come out on top.
Go Mobile!
Unlock efficiencies in tower infrastructure management with Tarantula's Field Force!