Tarantula India office plants over five hundred trees in tree plantation drive
Hyderabad, India – July 12, 2016 – As part of its corporate social responsibility (CSR) activities, Tarantula's launched the Nurture Nature programme on July 11, 2016 by planting over 500 saplings in Hyderabad.
Tarantula employees actively participated in the activity aimed at improving the urban cityscape. Greate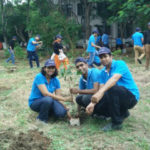 r Hyderabad Municipal Corporation provided saplings of rain-water harvesting and herbal plants, while the Nature Cure Hospital offered their premises for the tree plantation drive. The hospital occupants will benefit from the improved habitat. A dedicated team of volunteers from Tarantula has also been put in place to ensure long-term sustainability of this effort.
Tarantula's environment-sustainability exercise was supported through Haritha Haram, Telangana government's tree plantation programme that aims to increase the tree cover to 33% (from 24% previously) of the total geographical area of the state.
About Haritha Haram
The National Forest Policy of India envisages a minimum of a third of the country's geographical space to be under tree cover to achieve both environmental stability and ecological balance. It has ongoing efforts to achieve this by rejuvenating jungles and protecting them against smuggling, encroachment, fire, over grazing, and so on. In addition, massive plantation activities in urban areas are planned to aid growth of the green cover.
The Telangana state government has taken up the Haritha Haram (Green Garland) programme to support this cause. People from all walks of life, government agencies, NGOs and public representatives have participated in the programme to support forestation. For more information, visit http://harithaharam.telangana.gov.in/Pages/Vision.aspx.